'Roundguard' Review: A Fun 'Peggle'-Inspired Roguelike
I love both Slay the Spire and Peggle — I have easily logged 90+ hours between the two games — yet I never would have imagined a game like Roundguard. On the surface, Roundguard is a mix of PopCap's popular ball game Peggle (which is a mix of Bagatelle and Pachinko) and a roguelike RPG (Slay the Spire), yet Roundguard manages to capture Peggle's quick and addictive arcade feel with Slay the Spire's difficulty and strategy quite beautifully.
One note before we begin - this article will reference Slay the Spire and Peggle throughout the review. Roundguard very clearly builds on the core mechanics of both of these games, and it's helpful to discuss it in this context.
I wasn't always a big roguelike fan. Back when I was younger, I used to love playing games that would have incredibly long, arduous campaigns. Part of me still does, for the record, but as I get older and have more demands on my time those long, hundred-hour campaigns aren't as appealing. It's too easy to for me to sink 10 hours into an RPG, have a sudden influx of work that pulls me away, and come back a month later only to forget where I was in the story. Because I've this, I started playing more rouge-like games, such as Slay the Spire, Monster Train, or Hades. In these games, while there might be a story, when you die, you start over at the beginning. Because of this, you can play the games in bursts, put them down for a few weeks, and step back into them without having to worry about where you were. As an adult gamer, that kind of flexibility is a godsend.
Given that, Roundguard easily caught my attention. Like Slay the Spire, a Roundguard run begins with choosing a character class, Warrior, Rogue, or Mage (each with their own set of strengths and weaknesses to accommodate different playstyles). One selected, you set off through a dungeon, going from room to room and fighting opponents.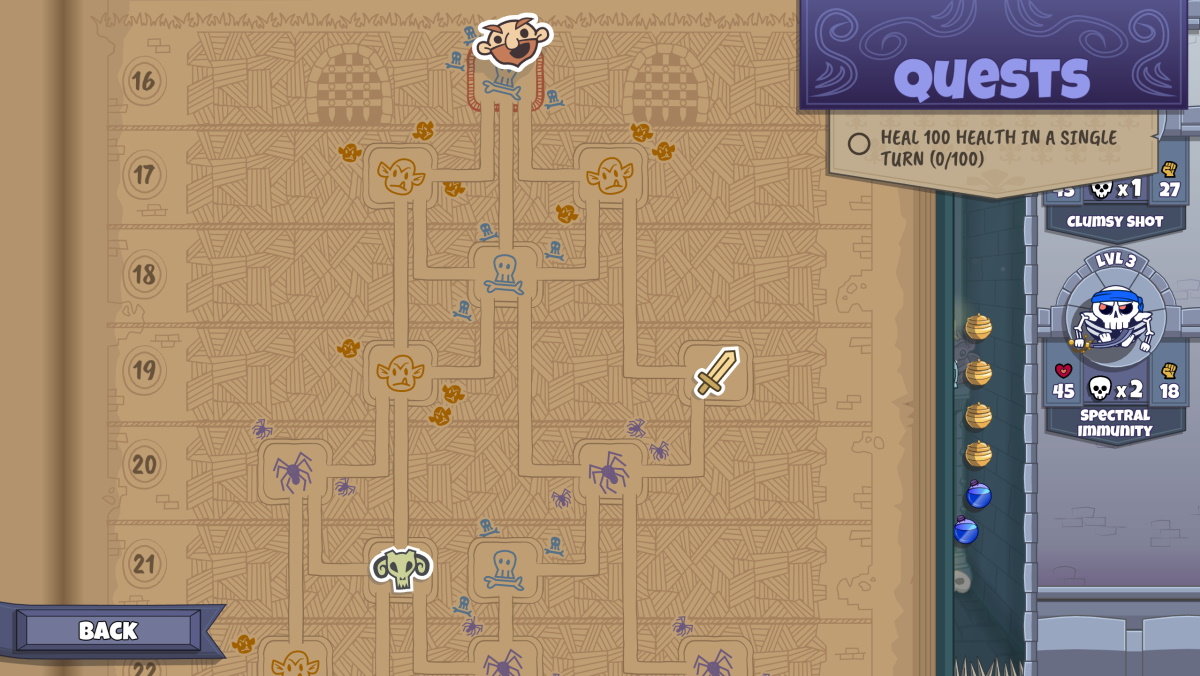 Each room in Roundguard is setup like a Peggle board, you shoot your character from the top of the screen, and they bounce, smashing into pots (awarding gold), potions (mana or health), or enemies (which you need to clear to move to the next room). The characters each have abilities that can be used to redirect your shots, do additional damage, or add status effects at the cost of mana. As is common for traditional roguelikes, health, status effects, and mana are not reset when you clear a room.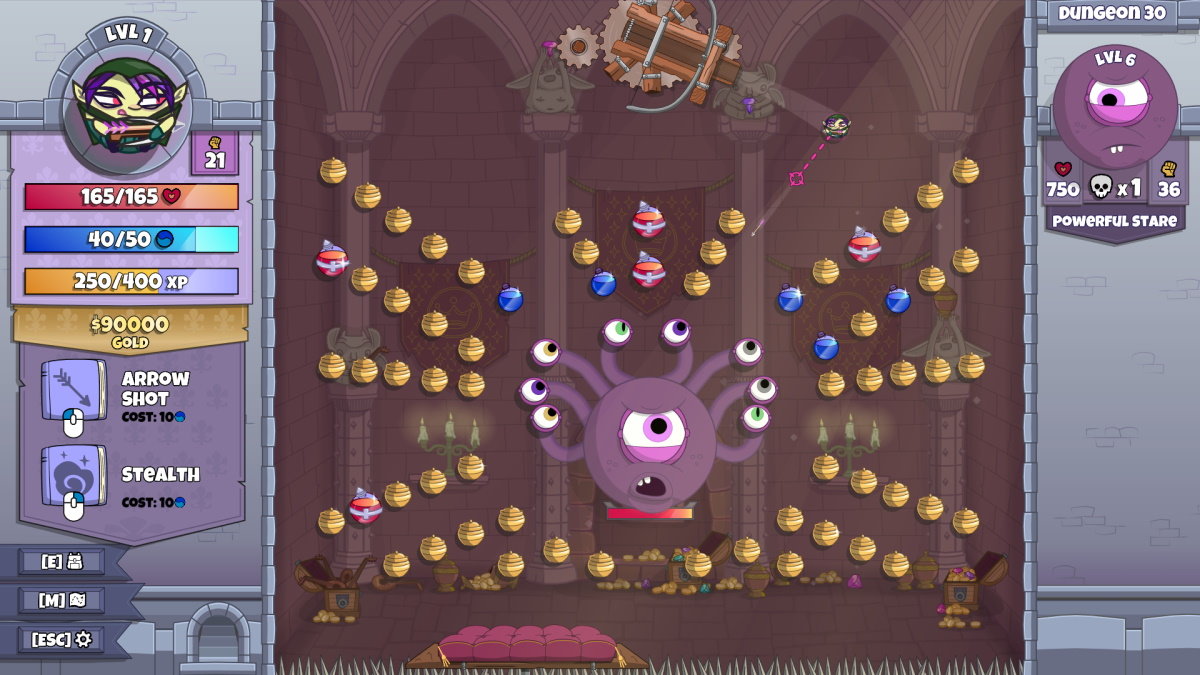 While Peggle limited the player to a certain number of shots per map, Roundguard allows you to continue firing until you run out of health. The bottom of the screen is filled with spikes, and landing on them will cost a small amount of health, effectively limiting you from staying in a room forever. The game, however, does borrow Peggle's 'free ball' mechanic: at the bottom of the screen – there is a pillow that moves over the spikes, if you land on it, you don't take damage.
One clever mechanic was how you navigated the dungeon – in Slay the Spire you simply clicked the room you wanted to go to after you defeated all the enemies in your current room. Roundguard puts a new spin on things by having you launch yourself into the appropriate pipe for the next room (left, right, or middle), but there's a catch. The playing field isn't cleared before you choose so if you wanted to go the room to the right, which the map says contains a power up, you may need to do some clever shooting to navigate around the debris from the map. This adds both another level of strategy and of chance which I appreciated.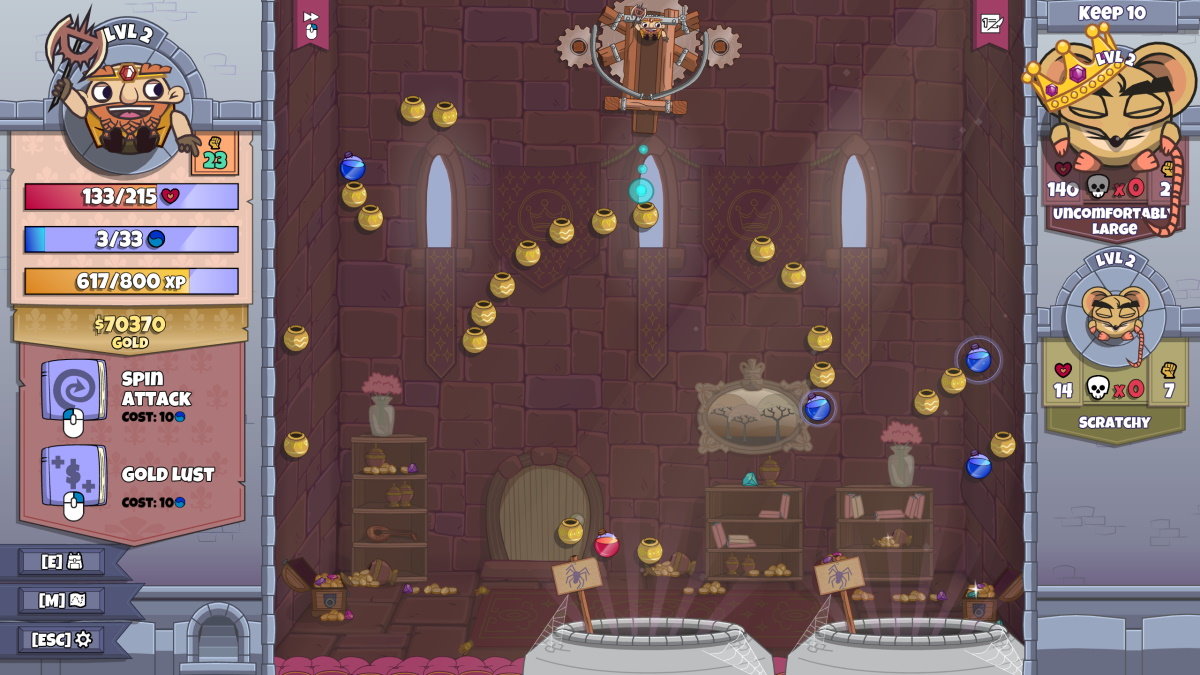 As you navigate the dungeon, you'll pick up armor, weapons, and skills that can change (slightly) how your character plays. This can add a level of variety to each run, and helps survivability as you go deeper into the dungeon. Additionally, potions in rooms can add status effects, buffing (or nerfing) your attacks.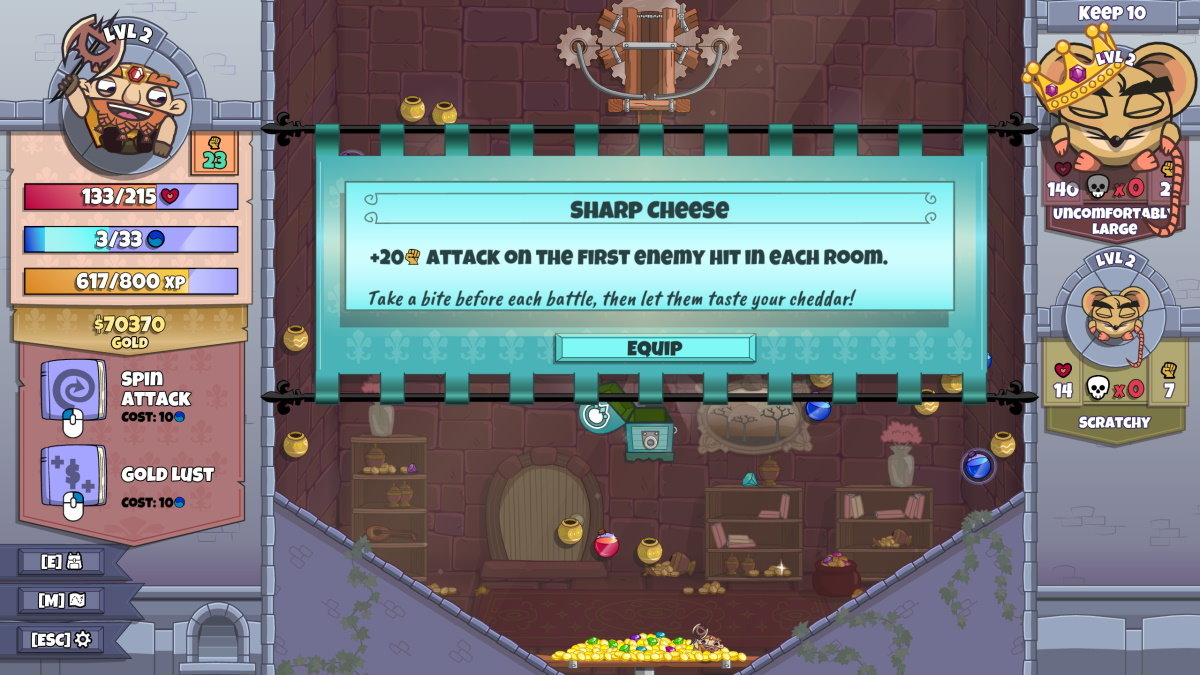 As I mentioned, you clear rooms by defeating enemies. When you bounce into an enemy, you do damage to it, but the enemy does damage to you as well (depending on its buffs, strength, and other stats). It's possible, with a bad shot, you'll bounce between more enemies than intended, rapidly dropping your health. One bad shot can cripple a run, but other roguelikes have similar punishing mechanics, so this is genre appropriate.
I do want to stress this game feels like a proper roguelike (or at least a roguelite) - getting to the end is challenging, and you will die. Often. But that's part of what makes this game work - it's hard, but the difficulty (paired with how the game randomizes the map on each run) is what makes the game fun and replayable.
Despite the difficulty, the game remains solidly PG in its style. The game does not take itself seriously, setting the events in the dungeon as part of a gameshow. Despite the warrior wielding axes, or the thief wielding poison daggers, there's no graphic violence, and the game is remarkably child friendly. Characters also will interact in little skits between rooms, though I'll admit some of these vignettes felt a bit cheesy/young for my taste. That said, at least one other adult player I spoke with really enjoyed them, so your mileage may vary.
My biggest critique is that, in the madness of bouncing between enemies, it's sometimes unclear how you did something (maybe you had an ability that triggered) or how something happened to you (how did you lose 50% of your health in one turn). I wish there was a replay or log function so you could see what happened, or why a status was applied. Having some way to reply the turn in slow-motion could help.
But, in the scope of the game, this is minor. The game captures the replayability and addictive qualities of Peggle while brining something new and fun to the formula. If you enjoy roguelikes and Peggle, you'll likely enjoy it!